St Patricks Day Jokes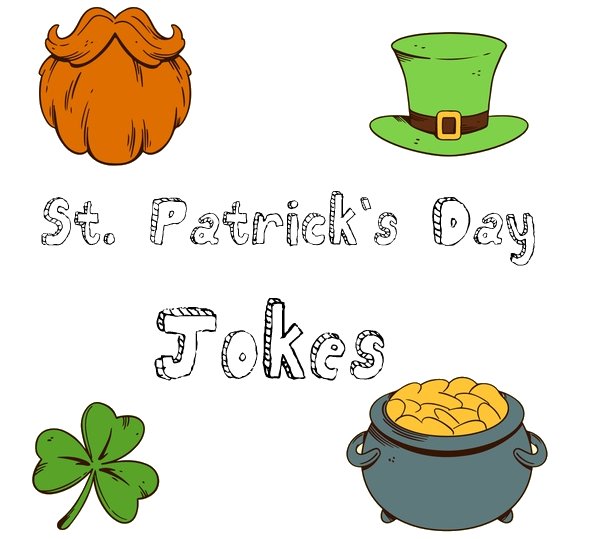 Are you looking for St Patricks Day jokes for kids?  Congratulations, you are in the right place.  There are hundreds of Paddy's Day jokes on the internet, but it can be hard to find ones that you can actually say in front of your children without having to explain them or have a lengthy discussion about what 'beer' is.  I'm not ready to have that talk just yet with our little ones.
Here you'll find jokes that won't leave you embarrassed if your kids tell them to another adult, jokes that won't leave you having to explain to your kids what beer is, and jokes that most importantly, have been kid-approved my own little comedians.  
Printable St Patricks Day Jokes
I guess I could have just typed the jokes up on this page, but that's not what we do here is it?  Below you will find printable Saint Patricks Day knock knock jokes and one-liners that you can use at home or in the classroom.
I created four different sets of jokes.  Each set comes in a full color printout as well as a black and white version.  Either one would be great for handing out in class.  Our teacher's are always looking for short activities to do during class. If you have a Paddy's Day party and need a quick activity, you could hand out the black and white joke sheets for your students to color.
The images here link to a pdf that you can either download to your computer or print directly from the site.
Submitted St. Patrick's Day Jokes
Here are a few jokes that have been submitted by visitors, friends, and family.
Q: What is green and sings?
A: Elvis Parsley.
Q: How does a leprechaun work-out?
A: By pushing his luck.
Q: What bow cannot be tied?
A: A rainbow.
Q: How old are leprechauns?
A: So old that they remember when rainbows were black and white.
Thank you to all of you that have submitted your favorite jokes.  If you have a joke that you would like to contribute, please leave it in the comment section below or message me on facebook.  Thank you for visiting and have a Happy St. Patrick's Day!
You can find more holiday themed worksheets, activity pages, and coloring sheets when you visit the links below:
Worksheets

›
St. Patrick's Day Activities
› St. Patrick's Day Jokes