Worksheets On The Southwest States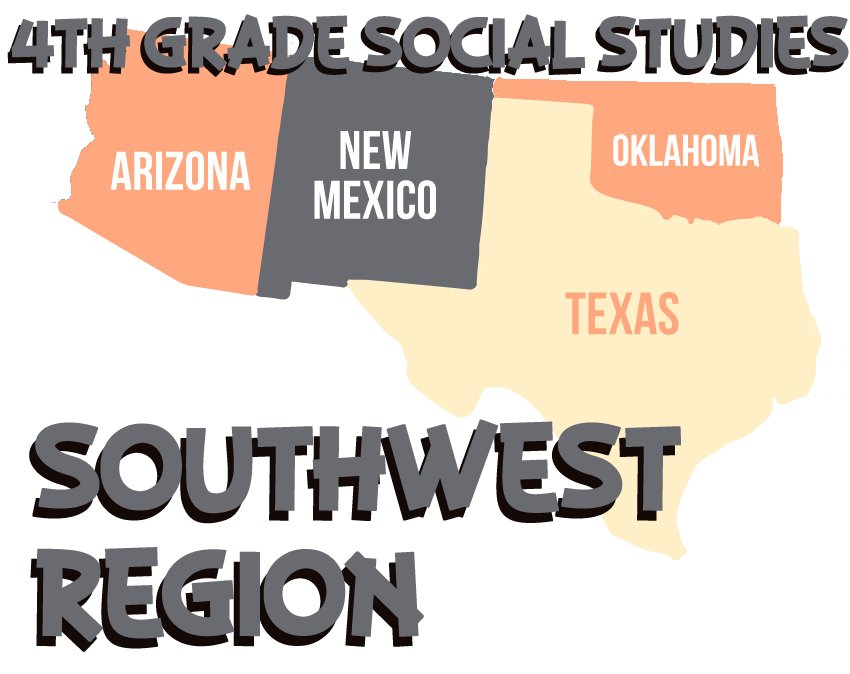 Use these worksheets on the Southwest States to learn the state capitals, their abbreviations, and where the states appear on the map.  This lesson will be one of the easier ones in our 4th grade social studies covering the United States of America.
There are only four states to cover in the southwest region:
Arizona
New Mexico
Oklahoma
Texas
This is the fourth set of states that we've covered so far (only one more to go!).  For previous lessons covering the Midwest, the Southeast, and the Northeast, please see the related lessons at the bottom of this page and stay tuned for our final group of worksheets covering the West region.
Study Guide & Worksheets On The Southwest States
There are nine different worksheets that you can print out for use at home or in the classroom.  The first paper is a simple study guide that lays out everything that we are going to cover.  I would recommend printing it out and using it as a quick reference with your child or use it to check his work after completing the worksheets.
Spend some time going over the study guide with your child.  Show her where the states are on the map and explain how each state can be abbreviated.  You may want to take the time to show her how we address letters (do people still do that?) so that they can get to where they need to go.  At the bottom of the study guide are all of the state capitals.
The next three worksheets have all of the names of the states removed.  In their place, there are numbers.  Below the map are four different boxes, each box has a state name next to it.  Write the number of the state in the box beside its name.  
In the fifth paper, all of the states are labeled by name.  Below the name is an empty box.  Write the correct state abbreviation in the box provided.
The next worksheet has the state abbreviation marked on the map.  Underneath the map is a list of all of the state capitals.  Have your students write the name of the capital underneath the abbreviation.
The last three worksheets will all use the same set of directions. Each state is labeled with a number.  Under the map are four boxes.  Next to each box is the name of a state capital.  Write the number of the state in the box next to its capital.
If you have any questions about the worksheets or see an error, please leave a message below.  Click any image to print out your worksheets.
You may have completed the worksheets on the southwest states region, but there are many more capitals, abbreviations, and worksheets to cover still.
Check out some of the other state regions below or find more 4th grade math, handwriting, and reading worksheets.
Worksheets

›
4th Grade
› Southwest States Region