Cursive Writing Worksheets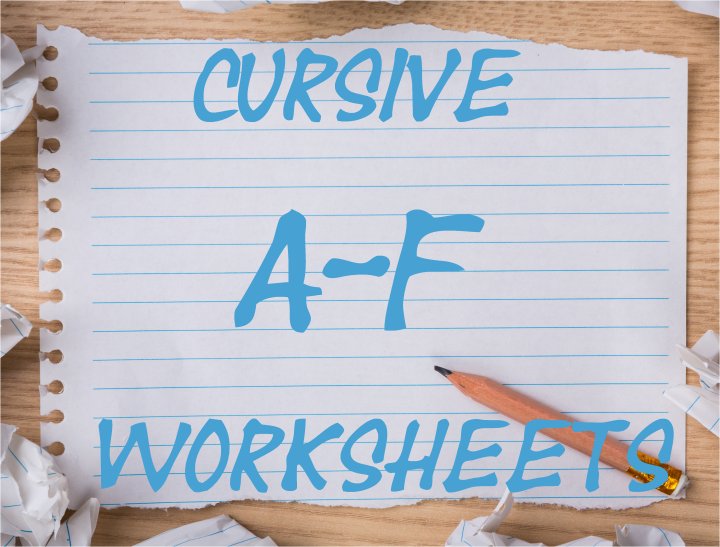 These cursive writing worksheets will focus on the first six letters of the alphabet, A-F, in their uppercase form. 
Before beginning these lessons, you might want to review how to form lowercase letters first.  There are many different ways to introduce cursive writing to your child.  We preferred to learn all of the lower-case versions first before working on the upper case.  This allowed our kids to be able to write full words once they started learning their capital letters. 
You can also introduce both forms (capital and lower case) at the same time.  I've made a set of lowercase cursive writing practice sheets (link at bottom of this page) that you can use alongside these.  The important thing to remember is that you work at your child's pace.
The activities below involve writing in lowercase script.  For a review of lowercase letters or to learn the rest of the uppercase ones, please see my previous lessons covering those letters.
Cursive Writing Worksheets You Can Print

Printing out your writing practice sheets is easy.  Just click on one of the pictures below.  This will open up a printable file in another tab.  From there you can print out worksheets or save it to your computer.
Each handout comes with two lines of cursive writing practice.  The first letter in both lines is written for the student.  They should trace the first letter and then use the remaining space to practice writing their own cursive letters.

Below the writing area there are short and simple activities like coloring, matching, or in some instances, more writing.  You can't get enough practice!

Tips On Cursive Writing Practice
We've recently had to reintroduce cursive writing to our oldest son.  He's thirteen now, but his handwriting has always been an issue.  As part of his IEP, he has a teacher's assistant that will help him rewrite things or even write things out for him if his work is illegible.
This summer we spend a bit of time each night going over individual letters and then writing words using just the letters he has learned.  Since he has some previous experience with cursive, we are doing both upper and lower case at the same time.
We do two letters each night and trace a three to four rows and then do three to four rows of free-hand (non-tracing) cursive writing.  Be sure to watch how your child forms the letters.  We had some issues with our son tracing letters backwards.
Once we're confident he has the patterns down and can free hand well, we come up with words using just the letters he learned.  In the beginning we had to make up some words, but he actually enjoyed trying to come up with words.  Be sure to capitalize the first letter in these made up words so your child can practice connecting capitals to lowers.
There are some really cool cursive writing worksheets available online.  We purchased one for our son that involves writing out the Declaration of Independence.  You can also find cursive workbooks with positive quotes, scary stories, and even Minecraft characters. Be sure to check out the cursive books page below and continue learning the rest of the uppercase alphabet with the rest of my free cursive writing worksheets.
Worksheets

›
Cursive
› Uppercase A-F