Letter B Worksheets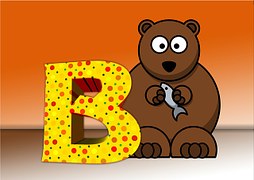 Each letter B worksheet below is designed for a specific skill level.
Children just beginning to learn their alphabet can take advantage of the first three worksheets.  They involve simple activities that introduce the /b/ sound.
Older students that know their letters fairly well can review by using the last three papers.  I'll cover how to use the activity sheets below.
Letter B Printable Worksheets

Click the pictures to open a printable file in another tab.

Letter B Worksheet Instructions

In the first paper, your child should practice saying the words shown.  Then he or she needs to circle the pictures in the right column that begin with the letter b.
The second worksheet is one of my daughter's favorites. It involves cutting and pasting.  What's not to like?  Have your child cut out all of the pictures and then glue the ones that begin with 'b' onto the paper.
The next worksheet introduces the letter b as an ending sound.  Students will need to look at the picture and determine whether 'b' begins or ends the word.  If it begins the word, write a 'b' on the first line.  If it ends in 'b' write it on the second line.
Next is a circling and writing task.  Circle the word that matches the picture then write it on the line. 
Then you'll see a short rhyming activity.  In the top box are four words that begin with the letter b.  Below are four more boxes with words that rhyme.  Write the correct 'B' word in each box, then complete the phrase using a 'B' word and use another to write an original sentence.

Web Words is a fun task that can be used alone to brainstorm words or it can be played as a game too.  For rules on how to play, see our
Short Vowel Game instructions.  It works with consonants too.
Find more lessons covering letters and writing below.

Similar Worksheets:

Worksheets

›
Consonants
› Letter B