Thanksgiving Crafts For Kids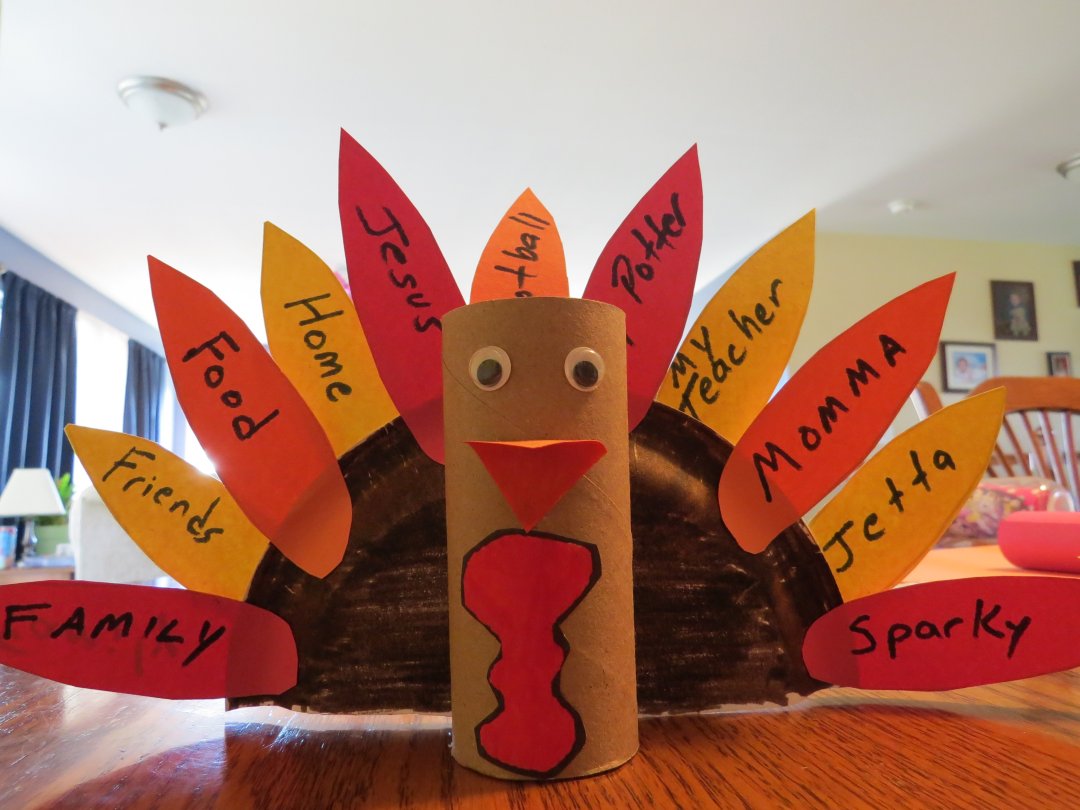 This is a great Thanksgiving crafts for kids that brings the family together in a way that's more than just 'doing a craft'. 
Many of the crafts that we do are intended to just be fun little activities--something to help you spend time with your kids.  But I believe this craft can be more than that.
This is one of those crafts that I could see becoming a Thanksgiving tradition.

You can get the whole family involved and when you're done, you have an excellent, homemade Thanksgiving table decoration.

Thanksgiving Craft Supplies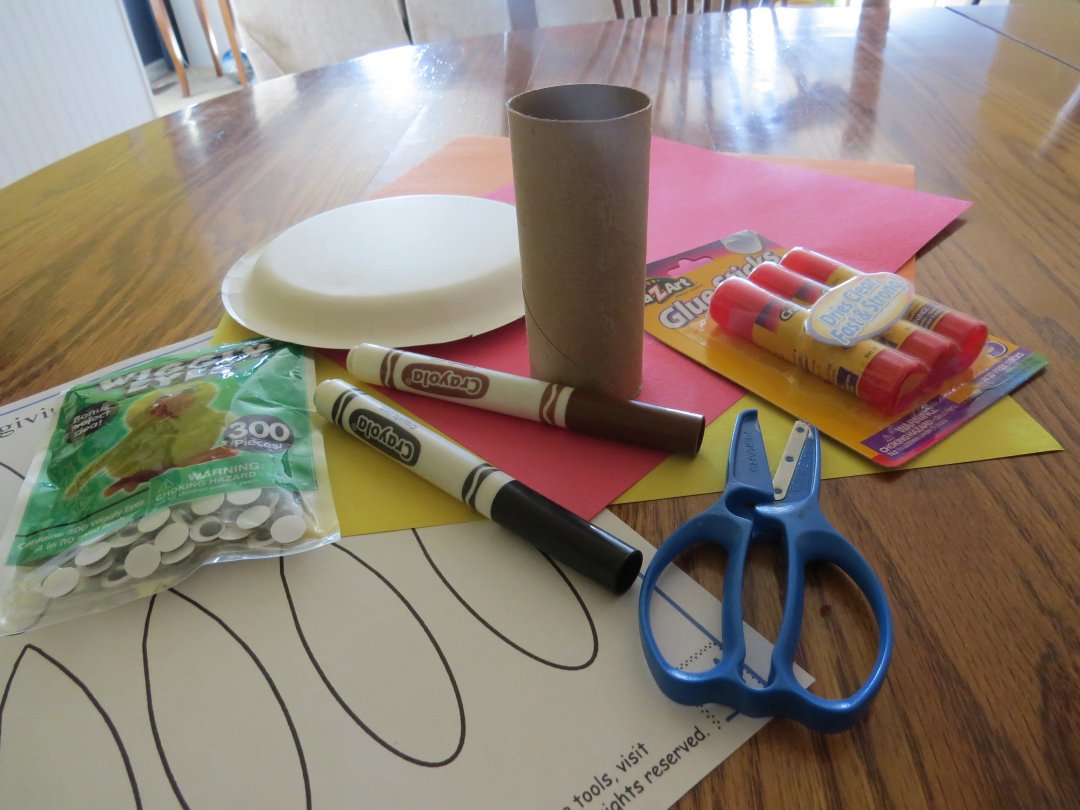 Construction Paper
Scissors
Glue
Googly Eyes
Paper Plate
Markers
Toilet Paper Roll (Optional)

Our Template (Optional)

Blessing Turkey Thanksgiving Craft Instructions

We'll start by making the turkey body. 
If you don't have a toilet paper roll you can cut a piece of construction paper about four inches wide, roll it up, and glue it (or tape it) together.

---
Glue a couple of googly eyes onto the toilet paper roll (or construction paper body). 
For the beak, cut out a small diamond shape from your construction paper. 
Fold it over to make a triangle and then glue it to the body. 
To create the wattle, you can draw your own squiggly or use this Thanksgiving Template from one of our other crafts to print out the wattle you see in the picture. 
You may wish to color the beak and wattle.

---
Next, cut the paper plate in half.  It needs to be one of the small, dessert-sized paper plates. 
Color it in and then glue it to the body.
Note:That's how we did it, but I would recommend gluing the feathers onto the plate before gluing the plate to the body.

---
Now it's time to make some feathers. 
If you printed out the wattle template, it came with one feather on it. 
We cut out one feather and then traced it onto the construction paper to create all of our feathers. 
If you don't wish to do that, you can print out these Turkey Feather Templates and color them in.

---
Now comes the fun part.  Have each family member take a feather and mention one thing that they are thankful for.  Write it down and then glue it to the plate.  Be mindful of where the feather will be placed as you don't want to write the words upside down.
(Huh?) 
Feathers on the left side of the turkey will need their words to start by the tip.  Those on the right will need the words to end at the tip. 

When all the feathers are complete, glue them to the paper plate.  We alternated gluing them to the front and the back.  You don't have to do that, I just thought it added a little depth to the project. 
Once everything is glued, set it down on your table and you have a fine Thanksgiving centerpiece that proudly displays what everyone is thankful for.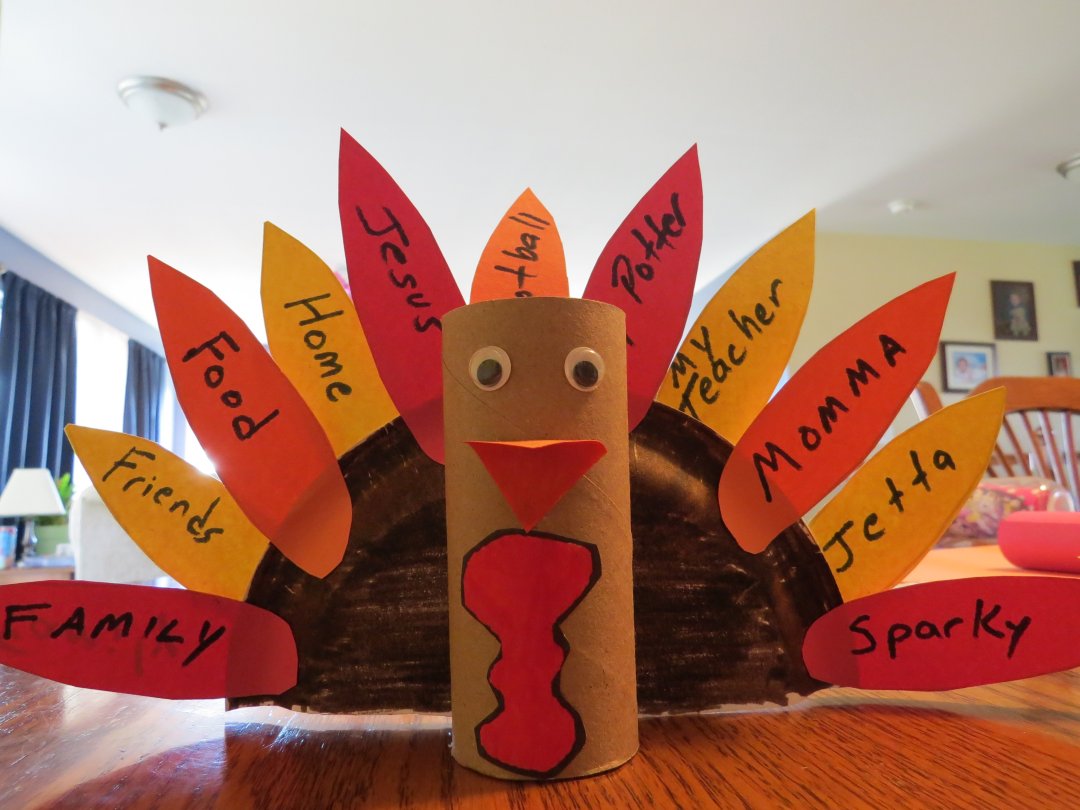 More Thanksgiving Crafts For Kids

I think this is a really cool idea that we will enjoy doing every year.  It will be fun to see what the kids are thankful for each year.
If your family ends up making one, take a photo and share it with the rest of us by posting your photo in the comments below.  We would love to see them.

And don't forget to check out the rest of my coloring pages, activities, and Thanksgiving crafts for kids on the pages below.

Worksheets

›
Thanksgiving
› Thanksgiving Blessings Turkey