Tracing Lines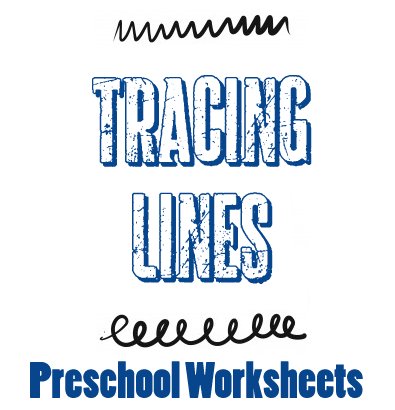 Learning how to write begins with tracing lines.  By practicing line formations, your child will learn the basic forms needed to successfully write the alphabet.  It also helps to build muscle memory and aids in developing the fine motor skills needed to write neatly.
I know it can be tempting to jump right in to the alphabet tracing worksheets.  After all, that is the end goal here right?  For your child to be able to write the letters of the alphabet?
But, before you tackle the alphabet tracing worksheets, I highly recommend working through these line tracing papers.  It's important to progress through the different line formations that your child will need to be able to write.
For many kids, this won't be a problem and they will be able to quickly move through tracing the lines and be ready to start working on letters.  Others, however, may struggle and need more help with drawing nice, straight lines or circles that don't overlap too much.
And that's okay!  As always, work at your child's pace, only moving on once you feel they are forming good lines.  Let's check out the worksheets!
Tracing Lines - Worksheets

Using these worksheets, your child will be able to progress from forming vertical lines, to horizontal lines, then curves, and finally diagonals.  When I work on handwriting with clients, we start with vertical or horizontal lines and then move on to forming circles.  Here I've focused more on curved lines and diagonals (or zig-zagging lines) instead of circles.  In my opinion, these types of lines are more similar to actual writing styles.
Click the pictures to print out your papers and start tracing lines.  Direction are on each sheet, but I will offer a few tips and directions after you've printed your tracing papers.
Line Tracing Tips & Directions
Directions are pretty simple for these activities.  At the top (or left) of each page is an object.  At the bottom (or right) of the page is a matching object.  Your child will trace the lines from object to the other.  There are three to four traceable lines on each page.  The last set of objects is left blank so that your child can practice drawing the line by herself.
To get the most use out of these sheets, I would recommend laminating them after your print them out.  Then you can use a dry erase marker to draw the lines.  Once the lines have all been traced, you can wipe them off and keep practicing.
Some markers may be a bit large for tiny hands that are just learning how to write. You may want to try these
Dry-Erase Bright Crayons
from Crayola. They also have dry-erase colored pencils that may work well for older children when practicing their handwriting.
Once your child has mastered tracing lines, you can begin working on shape tracing or move right on into learning how to write the alphabet.  You can find worksheets covering all of these topics when you visit the pages below.
Worksheets

›
Tracing
› Line Tracing