100 Days Of School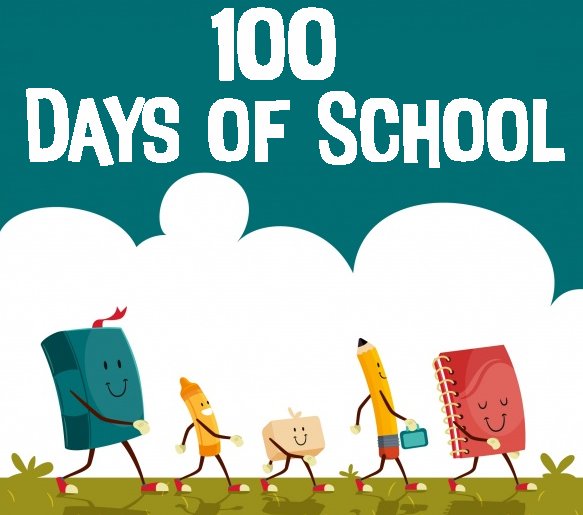 My daughter's Kindergarten class is getting ready to celebrate 100 Days of school.  This is a celebration that our kids have had for years now.  I remember when our oldest had his first 100th Day party, it seems like forever ago now.
Every year, the teachers ask for the students to create posters using 100 items of their choice.  This can be anything that is small enough to fit 100 of on a poster board.  In the past, I've usually let the kids do this project themselves, just gluing fruit loops, pennies, or cotton balls in no particular order all over their paper with little oversight from myself or my wife.
On party day, parents can come in and look at all the projects the class has made.  You can always tell which kids had help from their parents and this year, I decided I wanted to be one of those parents that helps their kid out.
The problem is that so many of this kind of homework ends up being the parent doing all the work while the kid sits by and plays on their tablet.  Not this time!  Here's a quick and easy idea for your child's project that makes sure they still do most of the work.

100 Days Of School Poster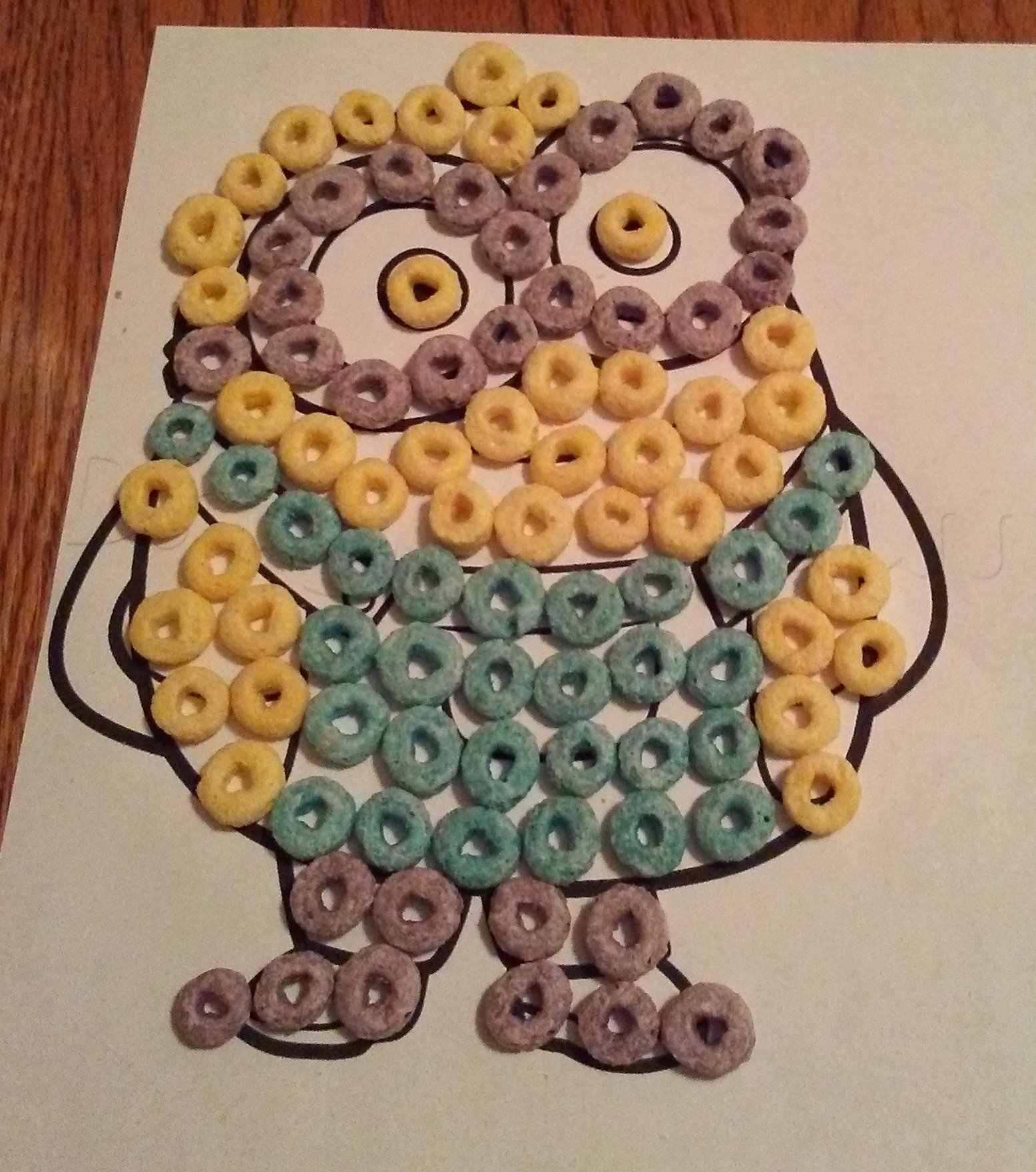 The easiest thing to use, in my opinion, is fruit loops.  They're small enough to fit 100 of them onto a piece of paper, plus you get to eat them while you work.
Once we had decided what to make the poster out of, it was just a matter of determining what we wanted to create with our fruit loops.
I had wanted to make some kind of design besides a rainbow.  It seems like you always see a rainbow made out of 100 items when you go to these parties.  I know because we've done that a few times in the past.  But, this year was all about trying something new, so we decided to make a Minion out of our objects.

The first thing to do was download a decent picture of a minion that was simple enough to decorate.  I found the one on the left doing a google image search.
We were actually looking for unicorns at first, but somehow, the minion appeared on the search results and we decided to go with it.
After I printed out the paper, I began working alone to see if I could fit 100 fruit loops onto the page.  This is probably the most frustrating part of the project, but you want to make sure you can fit all the objects onto the template before you have your child start gluing.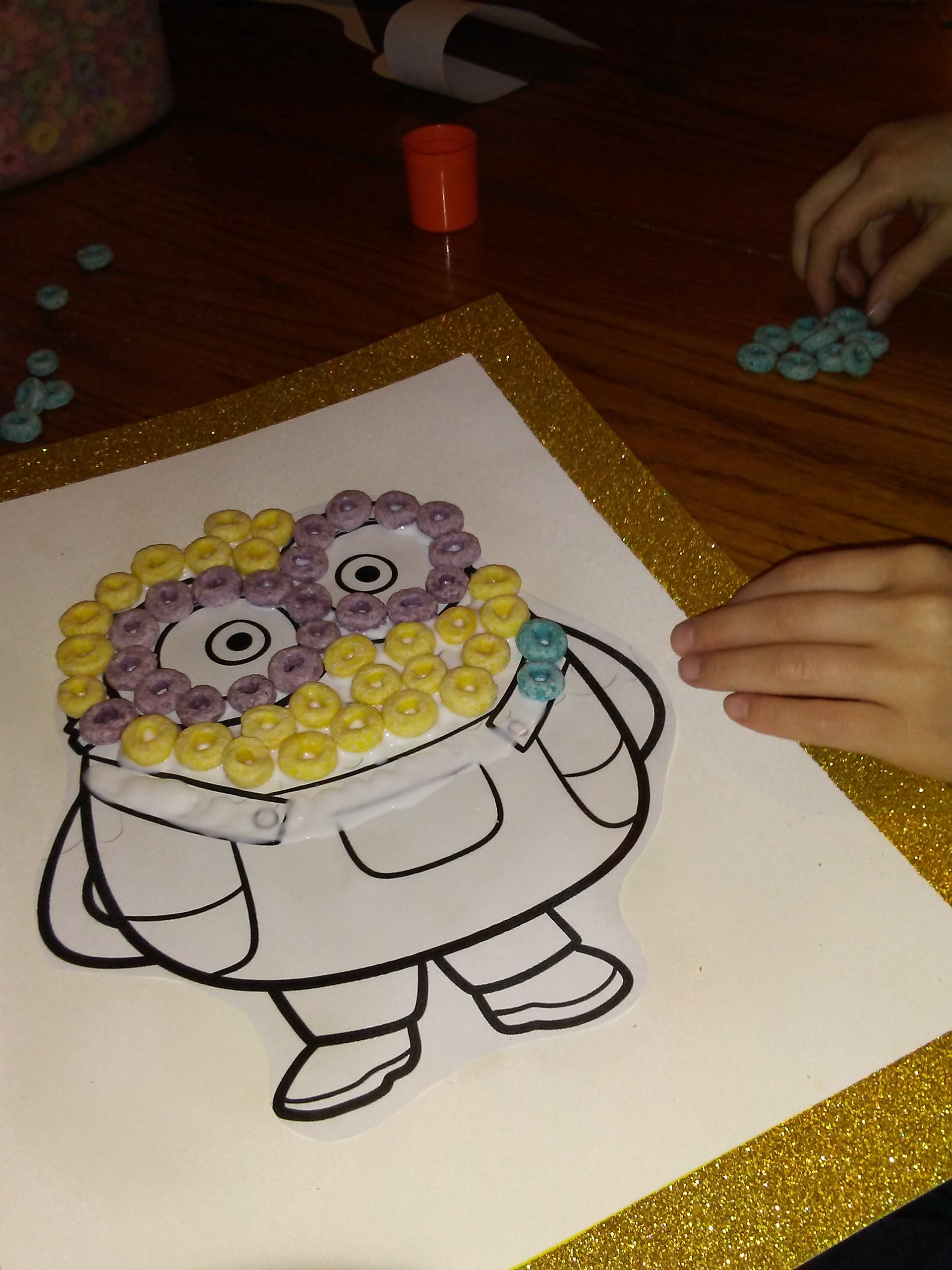 You're going to want to use lots of glue for this.  Fruit loops don't stick very well.  We cut out the minion template and glued it to our glittery poster board.
Then we doused a bit of the template with glue.  First we focused on the glasses, got all those pieces into place, then started on the head. 
In the picture shown here, I had just put down a layer of glue for our daughter to start placing her blue loops on.  She finished up the suit, the rest of the body, and then the shoes in a short amount of time.  Once everything was in place, I used our spray-on glue to cover the top of the project. 
I figured this would help keep the tops together and maybe get into the spaces in between that the glue on the paper couldn't.  It's finally dry now and looks pretty darn good as far as my daughter is concerned.
Personally, I'm just happy it's not a rainbow!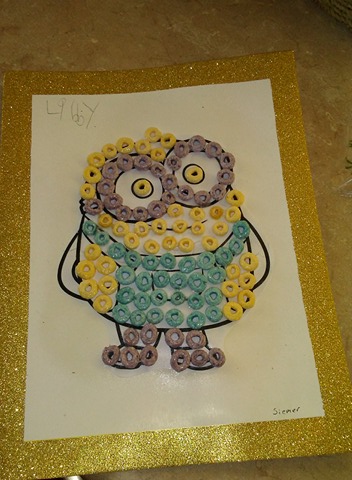 This 100 Days of School project can be customized in so many ways.  Just search for a simple coloring page, print it out, and you're ready to go.  For more school crafts and projects, check out the pages below.

Worksheets

›
Counting
› 100 Days Of School Project