Free Preschool Activities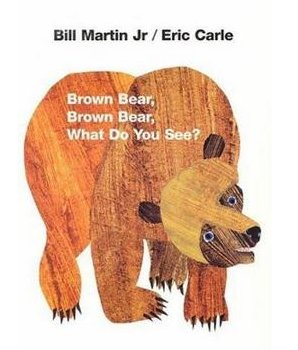 I hope you've been enjoying the free preschool activities as much as I've enjoyed making them. Our kids have had a blast doing these activities and I'm glad to have the chance to share them with others.
Some of the previous activities have focused on my kids' favorite poems or songs. This activity will focus on one of their favorite books: the classic Eric Carle story, "Brown Bear".

Brown Bear Preschool Activity

Brown Bear, Brown Bear, What Do You See? is a classic book that you'll find in most any Pre-School classroom.  My daughter's Pre-K class started reading the book this week and they sent home an activity for us to work on.

The book itself is amazing for teaching children about colors and animals.  This activity builds upon those concepts combining colors with animal graphics.  To get started, all you have to do is print out the worksheets below and cut them out.  Remember to use safety scissors if your little one is going to help.

The first worksheet has the lines of the book written out.  Cut these out and set them aside for now.

The final two worksheets have the animals that go alongside (match) the sentences.  There is one set of animals already colored and another that your child can color herself.  Print one set out and set them aside.

Once you've cut out the animals and sentences, mix them up. Pick up the first sentence (start with Brown Bear) and read it to your child.  Have your child hand you the animal that corresponds with the sentence you've just read.  Doing this, the two of you can put the story together.
Activity Idea 1: You could create your own version of the book by gluing the sentences and pictures together on a few sheets of construction paper and then stapling it together.
Activity Idea 2:  Once you've printed and cut all of the pieces, you could play a memory matching game.  Turn all of the pieces upside down and arrange them in a grid.  Take turns turning over two pieces at a time.  If you can match the sentence with the correct picture you get to remove it from the board. 
Instead of using the sentences, you could use the colored animals in worksheet 2 with the animals that your child colors in worksheet 3 to match.

Use this activity to focus on colors and animals.  You can also help your child to read the sentences and point out the matching words between the sentences and the animal you've cut out.

Printable Activity Sheets

For those of you that don't already own this amazing book, you can purchase a copy of Brown Bear. Click the book to learn more.

Don't forget to check out all the other preschool activities I've created:

More Free Preschool Activities

Done with Brown Bear already?  Here are a few more free preschool activities using nursery rhymes, counting, numbers, and more that you might enjoy.

Worksheets

›
Preschool
› Brown Bear Activity