Connect The Dots Game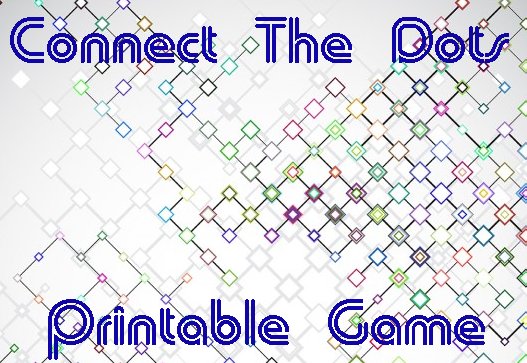 I used to love playing this connect the dots game with my friends and family when I was younger.  I've been teaching it to my kids now and our oldest daughter absolutely loves it.
The only thing I don't like about it is having to create a new game board every time we play.  So....I made these game boards that I can just print out anytime she wants to play.
Now she has a stack of them readily available.  We threw some in the van too for those longer trips. 

Printable Connect The Dots Game Boards

I've created nine different game sheets below.  The first three are standard games with dots.  I made them with different amounts of dots, because I know some kids won't have the patience to play a game with tons of boxes.
The next three worksheets use colored shapes like hearts and flowers instead of dots.  My daughter is all about the visuals and she prefers to play with the flower board instead of the plain old dots.
The last three boards were created to be used as a fun activity for a classroom party.  They feature holiday-themed characters instead of dots and are smaller boards making them great for children in Preschool or Kindergarten, but even older kids may enjoy them.

How To Play The Game

I figure most people have played this game before, but if not, here's how you play.
The game is usually for two players but can be done with more.  Each player needs to grab a different color marker or pen.  Players then take turns connecting dots, one line at a time.
In the picture below, the red player goes first and draws a line from one dot (egg) to another.  Then blue takes a turn and so on.  On blue's third turn, a box is created.
When a player completes a box, he or she should color it in or write their initial.  Players continue connecting dots and coloring/initialing their boxes until no more lines can be drawn.
Players then count up all of their boxes and the one with the most wins.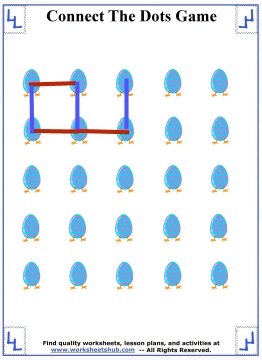 Find more games and dot to dot puzzles on these pages:

Worksheets

›
Connect the Dots
› Dot To Dot Game