Easter Writing Prompts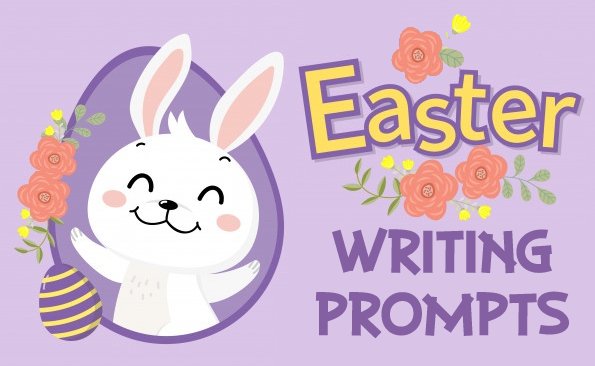 Get creative and celebrate the holiday with these Easter writing prompts!
Easter is one of the most popular holidays in our house.  Around this time of year, we're all pretty much sick of the cold weather and are ready to head outside.  Spring brings warmer weather, fuzzy little bunnies, and a much needed boost to our dwindling candy supply.
These Easter themes and more are captured in the prompts below.  Our hope is that they capture your child's creativity and that your child's responses may bring you a bit of humor.  We could all certainly use a dose of humor.  We would love to read your child's response, so feel free to snap a picture and leave it in the comments below or post the picture to our Facebook page.
Printable Easter Writing Prompts
Use these writing prompts to work on creative writing and fine motor skills.  Each worksheet has a picture at the top.  Below each picture is a simple writing prompt that poses a question or invites the student to continue the story.  Students can use the remainder of the worksheet to write out their responses.
You may also want to print these full-color worksheets out in black and white so that your students can color them.
To print your writing prompts, simply click on the images below.
More Writing Practice
If you are looking for more ways to improve your child's writing skills, be sure to check out the resources below.  You can find worksheets that cover printing and cursive writing.  The tracing lessons can help younger students to learn how to control their pencil strokes.  This can improve the quality of your child's writing. 
We spent a lot of time working on these kinds of activities with our son when he was younger.  While his printing still suffers, he has improved his cursive handwriting skills and we continue to build upon the success he has had with it.
Find what works best for your child and if he or she shows improvement in one area, be sure to highlight those areas and continue building those skills.
If your child's handwriting is good, then you may want to focus on building more creative writing skills.  If you've enjoyed these Easter writing prompts, then you should look into some of the other writing prompts that I've created.  You can find pictures for writing prompts and textual prompts by grade level, subjects, holidays, and more.
Thank you for visiting!
Worksheets

›
Writing Prompts
› Easter Writing Prompts