Thanksgiving Party Games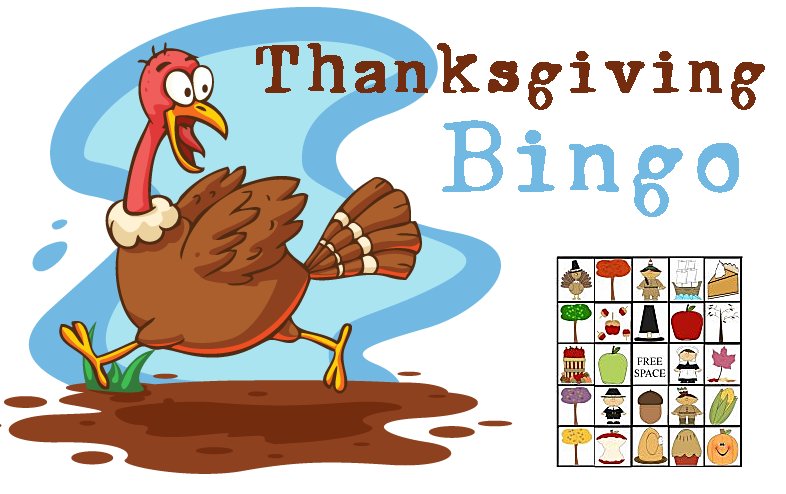 One of the Thanksgiving party games we played in my daughter's class last year was bingo. But, it was just plain old bingo with boring numbers. Numbers amirite?
Yes, it was still fun, kids still got to yell "BINGO" at the top of their voices and everybody had a blast.  But, I thought it would be fun to make some Thanksgiving-themed bingo cards, something to give the kids a break from the normal bingo game.  Seriously, we seem to play it at every party they have.

So I made some.

Below are ten printable cards that you can use in the classroom, the homeschool, or just as an activity to keep all the relatives' children entertained at the kids' table. I'll work on creating more for larger classrooms, but in the meantime, print these out and enjoy.

Printable Thanksgiving Bingo Cards

One problem we've had playing Bingo during classroom parties is that the kids miss marking their numbers.  They either can't find them or when they don't see them immediately, they assume the number isn't on their card.

The nice thing about these games is that every card has everything on it.  So your students should be marking something every time you call out an object.  This helps to eliminate missed "numbers" when playing games.  Granted, there are still going to be those kids that are busy stuffing turkey shaped cookies in their mouth and will forget to mark their spot.  Hey, as long as they're happy! 

So what do you call out if you're not calling out numbers?  I've created a quick legend that you can use to call out the "numbers".  You may want to print out multiples of the legend so that you can call the items out and then mark them off after you call them.  You could also cut all of the pictures out and draw them out of a hat or bowl and reuse them for multiple games.
Once you've downloaded the legend, you can print out these Bingo cards to play.  You'll need markers or crayons to mark the spots as they're called. 
For a fun way to mark your cards, have the students use candy corn or another small treat like M&M's.
Click the pictures to open a PDF file in another tab.  Then you can print or download your bingo cards.

More Thanksgiving Party Games & Activities

Below are a few more ideas to make your classroom Thanksgiving party fun.  There are simple Thanksgiving party games like the picture scrambles as well as fun activities like the word searches and Thanksgiving poems.
You can also find Thanksgiving stories that would make an excellent addition to any classroom library.

Worksheets

›
Thanksgiving
› Thanksgiving Bingo